Corporate Profile & History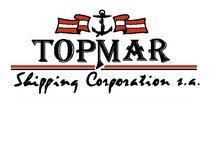 1992
The company was founded by Mr Claude D. Hallak and registered in Panama. Immediately a Branch office was established in Greece under Shipping Law 89.

The main company's activities since its establishment were Chartering of Ships, Sale and Purchase of Ships , Freight Contracting , Ship Agency Representation in Greece and in Egypt with (3) branch offices which were established in Suez , Port said and Alexandria as well as Ship management.

TOPMAR main clients have always been Greek and International Ship owners, Ship Managers , Charterers, Brokers and other companies of similar activities all over the World.

The company's managing Director since its establishment and up to today is its founder Mr Claude D. Hallak who has 35 years of experience in various sectors of the Shipping Industry.
From day one we handled the chartering of all types and sizes of ships and cargoes whether it is on the dry or wet market sector.

We have direct and close business relationships with Ship owners , Ship managers , Charterers, Traders , Shippers , Receivers , Refineries and Brokers. We also undertake to perform contracts of Affreightment (COA) .
We can handle through our associated local companies Ship Agency in Greece and in Egypt of all types of ships for all operations in ports such as Loading , Discharging , Lighterage , Trans-shipment , ship supplies, Bunkering, Husbandry, owners Protection, Repairs, Dry-docking, Etc... During the past years we have served clients of all nationalities and have reached a monthly agency service of 20 ships in Greek ports as well as 40 ships in Egyptian ports including Suez canal transit service and loading / discharging or lighterage in all Egyptian ports.
We can handle all kind of Ship management whether it is commercial, technical, financial or Full Ship management .During the past 35 years we have managed successfully, either with our present company or with other associated companies of ours a total of more than 60 ships navigating worldwide on either full management or part management.

In our company we speak : English - Greek - French - Arabic - Russsian and Italian and enjoy a large Network of reliable contacts in most countries of the World.
1997
In 1997 the company entered the marine insurance market. Based on the spirit of diversification and due to the excellent contacts and to the well maintained relationship the company's founder had with Russian State organisations TOPMAR acquired the General Representation, Agency and local correspondence of the oldest and biggest Russian insurance company INGOSSTRAKH of Moscow which is existing for the last 70 years. INGOSSTRAKH is well known for the International awards obtained for their excellent performance in the international markets. INGOSSTRAKH was once the State Monopoly for all types of insurance all over the whole ex Soviet Union.

Following the above we offer to Ship Owners , Cargo owners , Charterers, Traders , Shippers , Freight Forwarders , Banks , Mortgagees and Brokers all kind of Marine insurance covers such as Hull and Machinery , Protection and Indemnity , Cargo Insurance , Yacht Insurance , War Risks , Mortgagees Interests insurance , Loss of Hire , Crew insurance , Ship Builders' risk , kidnap and Ransom , and others.

Also we have been acting since 1997 as P & I Clubs Correspondents in all Greek ports as well as Agents for several International Insurance companies for attending all types of casualties and General claims handling including settlement of claims. We have handled so far about 1200 claims starting from small ones upto big ones such as : cargo shortages , cargo damages , Collision , Fire , wreck removal , Pollution prevention and all types of marine casualties . We also offer all types of surveys such as condition , pre-loading , quality and quantity , machinery damages , Hull damages , using always the expertise of our long established Technical associates.

2003
In 2003 TOPMAR established Topmar Shipping Corporation (Ukraine) and opened offices in Odessa. Ukraine office was dealing with the same activities which TOPMAR Greece is dealing with.

Also Since 2003 we have been acting as Agents in Greece of the state owned Black Sea General Shipping Agency (INFLOT) for vessels of all types calling at all Ukrainian and Russian ports of Black Sea for either loading , Discharging , Bunkering, Lightering , getting supplies or effecting repairs.

2005
After (8) years of our successful operations and results under our capacity as General Representatives of INGOSSTRAKH of Moscow we have expanded our contacts in the Russian marine insurance market acting directly and closely with an additional (15) Russian Insurance companies such as Rosgosstrakh , Alfa Insurance , Soglassiye , Military Insurance , Russian Insurance Center and many others.
2007
In 2007 TOPMAR became the Sole and Exclusive General Representatives in Greece and Cyprus for SOGAZ Insurance Company of Moscow the daughter company of the International Giant GAZPROM of Russia.

2015
In 2015 TOPMAR started to collaborate also with LLOYDS of London and was accredited as Lloyds Brokers associate enabling to offer all types of insurance covers from all Lloyds Syndicates .We also collaborate directly and closely with several other insurance companies such as HELVETIA in both Switzerland and France , MUNICH RE , SWISS RE , PICC of China , China Taiping , West of England , The Shipowners , RAETS , The British European and Overseas P and I , The British Steamship P and I as well as most of the International P & I Clubs. Most of our Underwriters are AAA , AA or A rated by International Rating Agencies.Until the end of 2016 our plans is to collaborate with an additional (10) insurance companies World Wide in order to offer a wider choice of insurance markets to our esteemed clients.